Happy new year Newgrounds! Quite a lot happened in 2022, here's a little recap.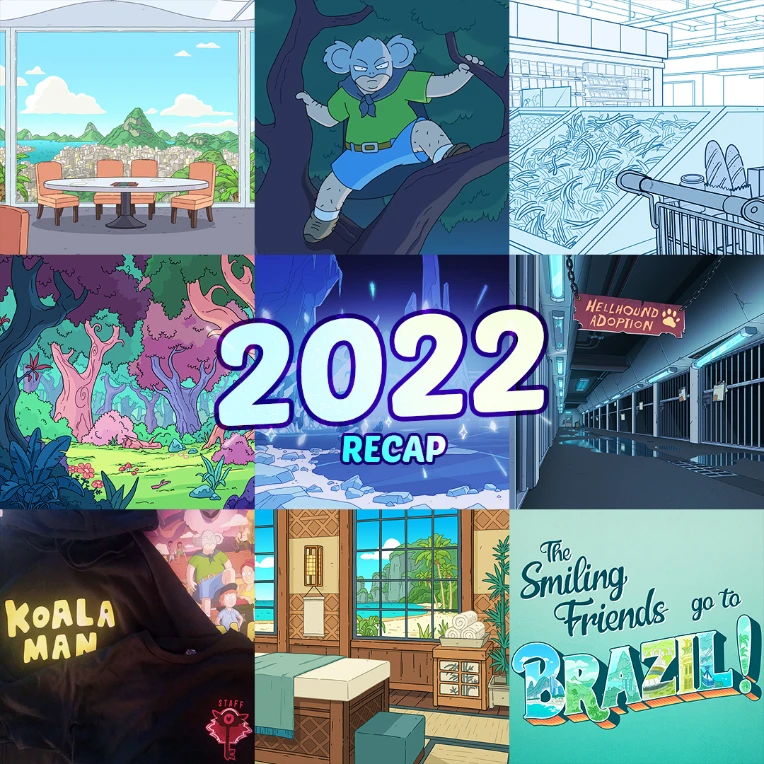 I started off the year by launching a discord community for background artists. I'm glad I did – it's been a really nice and friendly place. I have some bigger plans for it this year.
Smiling Friends season one premiered on January 10, and the show was a hit! It's a series very near and dear to my heart, the pilot being the first production I worked on at Studio Yotta and season 1 being the first at Princess Bento Studio.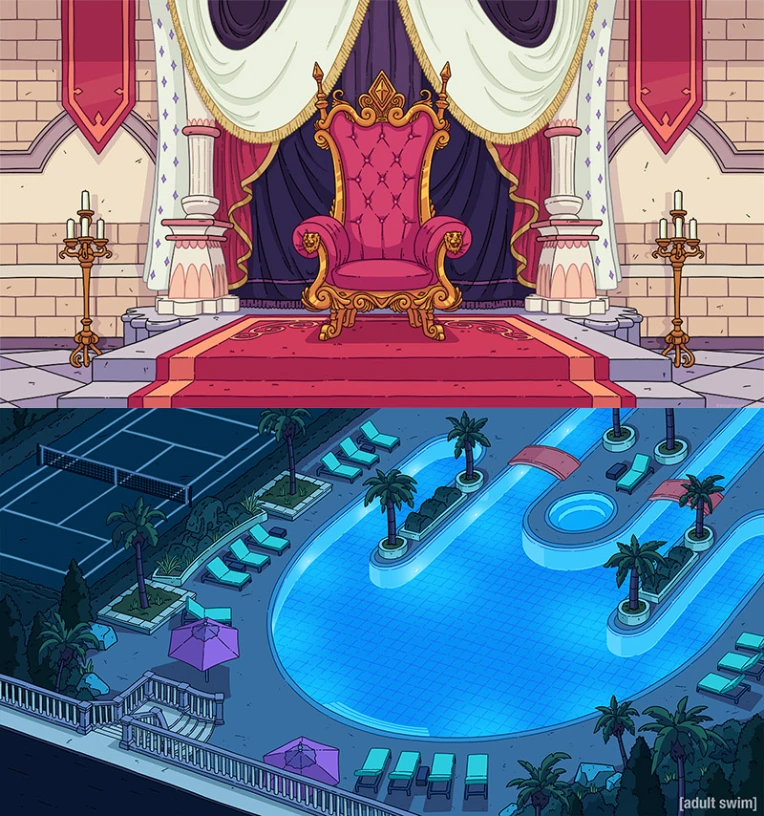 Two of the backgrounds I created for Smiling Friends
Also in January I picked up where I left off background supervising on the beast of a show that is Koala Man. The trailer just came out yesterday, make sure to give it a watch. Background supervising on a full TV show was a huge career goal of mine and I was lucky to do it on such a funny, quality show like Koala Man.
After wrapping on Koala Man I jumped on to another production at Princess Bento for a bit: Hazbin Hotel! This show is going to be a masterpiece, I'm so glad I got the chance!
After that I squeezed in what is perhaps THE COOLEST freelance job I've ever done!! Still a bit in shock I got to work for [REDACTED] (sorry it's still a secret!)

A few colour thumbnails I made for Smiling Friends backgrounds.
After I short break I helped on the FIFA Women's World Cup mascot reveal, where I helped set the background art style, painted some backgrounds and helped design the stadium.
Helluva Boss S2 episode 2 came out in October. I got the opportunity to design the pound location backgrounds, including the key.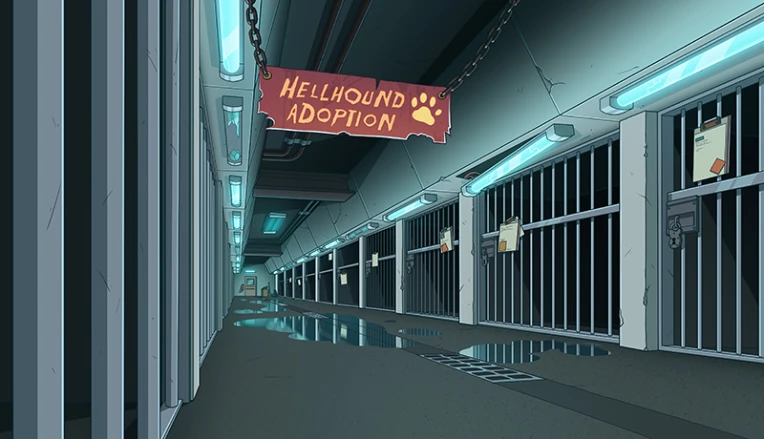 My key background for Helluva Boss S2 Ep 2
A fun project I'd worked on the year before at Unlisted for Sustainability Victoria came out. I worked on it as a layout artist.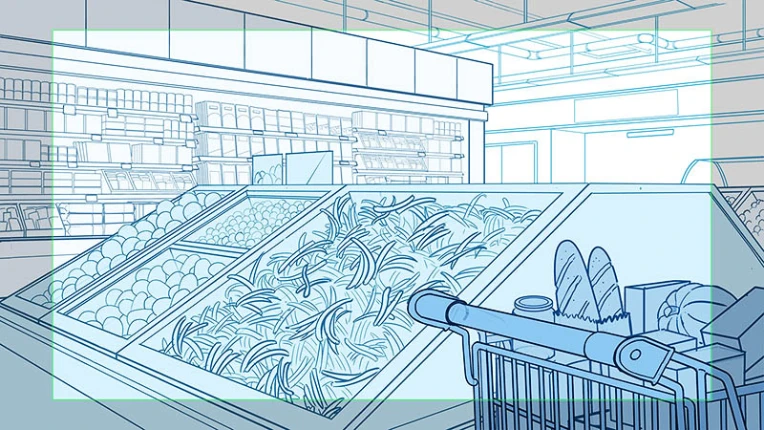 One of my layouts for the Sustainability Victoria project
Season one wasn't the only Smiling Friends last year! The Brazil special aired in August. This episode's a special one for me because I designed everything after the top of the escalator area. It's the new record holder for longest time I've ever spent on a background. Worth it though it's on screen for almost the entire episode!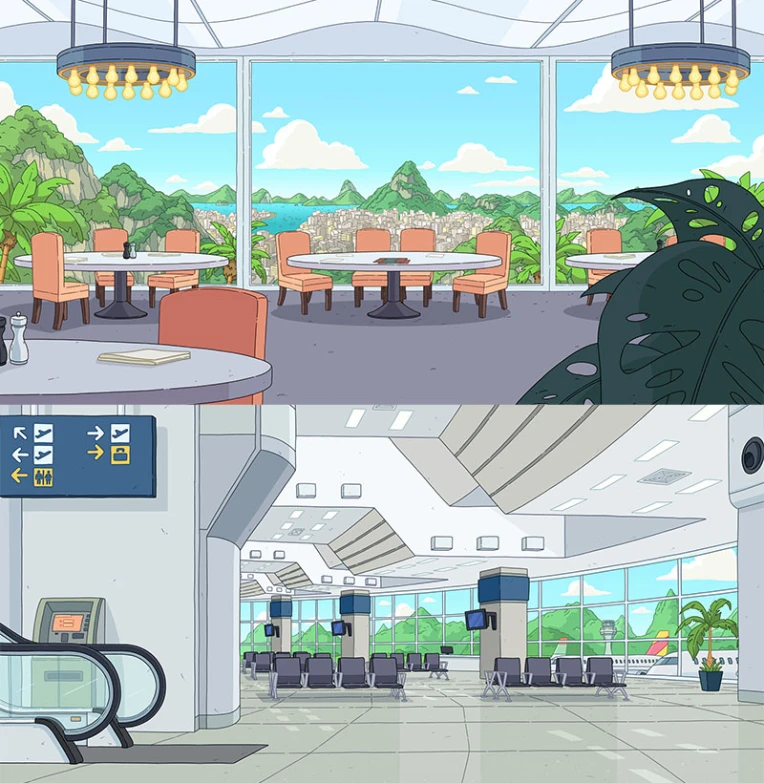 Close ups of the restaurant area and the terminal area in my giant Smiling Friends go to Brazil background.
I also got to help out Halfgiant on a couple of things this year!
I wrote an article where I break down the freelance job I did for Animaniacs. I hope to write articles more frequently again this year.
---
2022 was a real roller coaster of a year. I felt like both the highs and the lows were more extreme than usual. I had some of my big achievements this year, but I also had to come face to face with dealing with failure in a way I hadn't had to experience in six years. I had to overcome the effect that it has on your morale and confidence, and make the most of the situation I'm in. I worked harder than I ever had to meet a big freelance deadline while producing some of the work I'm most happiest with to date. And at one point last year, I was managing work for between 15 to 20 background artists!
I went back to the basics with my 2022 resolutions: diet and exercise. I cut a fair bit of sugar out of my diet and walked 2000km. These habits ended up becoming a critical part of my ability to work at my best and handle the tough moments of 2022. If there's one thing I'm most proud of last year, it's my grit and how I managed myself in tough situations.
I'm back from my holiday break, refreshed and excited to get back to work. 2023 is going to be a big one, and that's just looking at what I already have planned! I can't wait to see what else is in store this year.
If you'd like to see more of my work in 2023, I do weekly updates and share art most often on Instagram.
Or, check out my recap post for 2021.